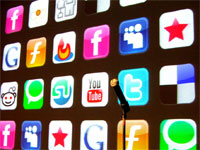 The Tennessee State Supreme Court rejected the prosecutors' attempt to prevent former University of Tennessee standout AJ Johnson from obtaining social media posts and texts of a female who accused him of rape.
Johnson and former teammate AJ Williams contend their accuser is lying and what she and her friends said via social media on the Internet before and after the alleged November 2014 rape will help prove it. But the law didn't address that kind of "talk" and police didn't preserve any of that Internet-based chatter.  When attorneys for the two ex-players tried to get that information from the accuser and her friends via a subpoena, the State balked saying the law didn't allow it. To complicate matters for the defense, the victim and primary witness have reportedly disposed of their phones and deleted their social media accounts that were actice when the alleged crime took place. A Criminal Appeals Court agreed with Johnson and Williams and stated in their opinion that the "The record suggests that the state has gone to great lengths to avoid collecting any of the communications sought by the defendants," "(Judge James Witt, Jr). The Tennessee Attorney General then appealed that decision to the Tennessee Supreme Court, which upheld the Middle Court's decision.
What concerns me is what manner of prosecutor, charged with duty of seeing justice done, would attempt to deny a accused person the opportunity to defend themselves? If texts or media posts had statements like "it was a great party last night" or "AJ is great guy, partying with a star"  the next morning, why would any person with conscience attempt to prevent access to that information?
Judges often review the information in the face of privacy concerns to see if there is any information that would help the defense or be exculpatory in nature. It isn't difficult or wrong to protect the innocent, but when the government actively fights to hide the truth nothing but injustice will occur.
With this ruling, the courts have pushed back on governmental attempts to prevent defendants from seeking the truth. Unfortunately, it is a rare occurrence.
In Defense of the Citizen Accused,