Client Payment Portal
No payments made through Lannom & Williams, PLLC's website shall obligate the firm or any attorney therein to provide the Payer with legal representation unless the payment is made pursuant to a written and signed  Letter of Representation that designates the payment is agreeable for the rendering of legal services. Payments made that are not pursuant to a written and signed Letter of Representation will not obligate the firm to representation and will be subject to be returned within a reasonable period of time. 
I have read and accept the disclaimer above.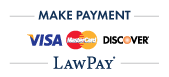 Click Here to continue to our online payment partner, LawPay.
Pay Online
Note: this link will take you away from this website to our secure payment processor, LawPay.